Adva Network Security protects TransnetBW's communication network
News summary:
TransnetBW needed to respond to the growing threat of cyberattacks on its electricity transmission grid
New communication network provides robust protection with BSI-approved security technology from Adva Network Security
Powerful ConnectGuard™ Layer 1 encryption comprehensively protects optical transmission and all network layers above
Adva Network Security today announced that TransnetBW has deployed its ConnectGuard™ encryption technology with the Adtran FSP 3000 optical transport solution to establish a highly secure communication network in its service area. As the operator of an electricity transmission grid in southwestern Germany and a European interconnection partner, TransnetBW depends on the security and reliability of its communication network to ensure trouble-free operations. That's why the company chose the FSP 3000 optical platform with Adva Network Security encryption technology, which has been approved by the German Federal Office for Information Security (BSI). This solution enables high-speed connections to be reliably and robustly protected, even against sophisticated cyberattacks. Planning and implementation of the highly secure infrastructure were carried out by Adva Network Security's long-standing partner Syserso Networks, who will also provide ongoing support.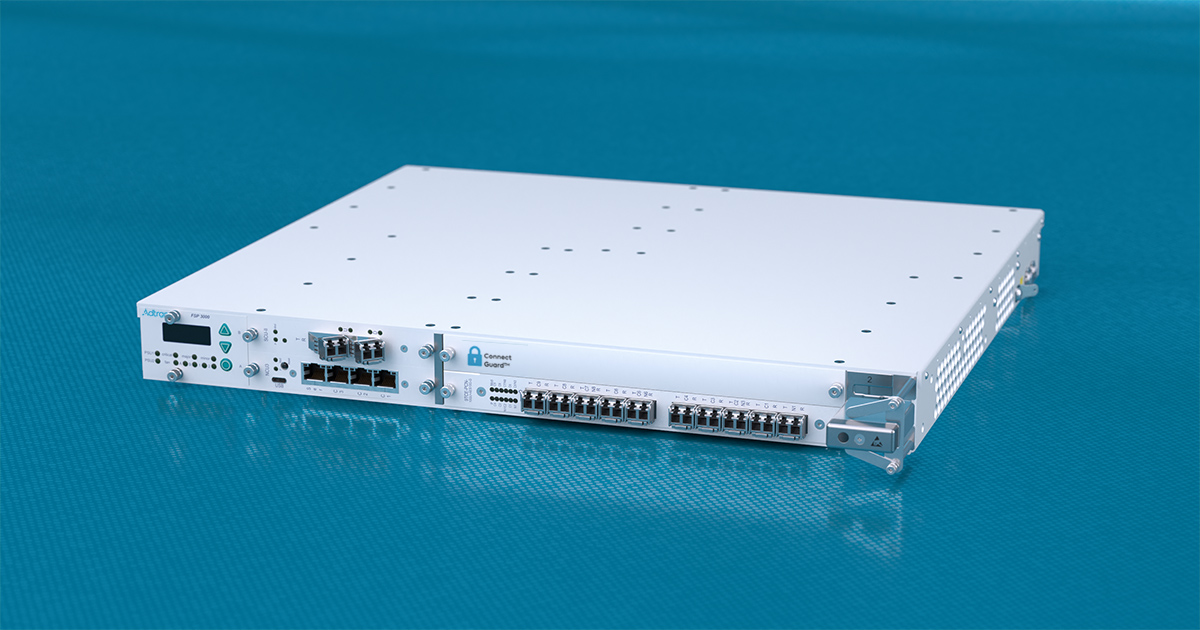 "As a utility company, and a critical infrastructure provider, we must comply with extensive and stringent security requirements. We also know that uninterrupted power transmission is of paramount importance to our partners. That's why we chose Adva Network Security's secure and reliable fiber optic transmission technology. When it comes to safeguarding our communication network, we can't afford to compromise," said Michael Schick, team leader of telecommunication projects at TransnetBW. "It makes sense to us to ensure the most effective protection by safeguarding all traffic on the optical fiber. The approval of Adva Network Security's solution by the independent experts of the BSI was another important factor for us."
We're ensuring the most effective protection by safeguarding all traffic on the optical fiber.
The new wide area network offers broadband and encrypted Ethernet connections. It's based on Adtran's terminals and the flexible optical layer of the FSP 3000 platform. Featuring aggregating multiplexers from the FSP 150 product family, the solution provides a wide range of bandwidth services from 2Mbit/s E1 over 100Mbit/s Fast Ethernet up to 100Gbit/s Ethernet. It also guarantees precise synchronization. The network is capable of serving all necessary bandwidths both now and in the future, while the easy scalability of the solution makes it adaptable to tomorrow's requirements. Syserso Networks also played a key role in implementing the project as a system integrator and service partner of TransnetBW, from network planning, installation, system integration and commissioning through to ensuring a turnkey solution and providing operational support.
"Building highly secure networks is a complex task that requires a great deal of trust between all parties involved. Throughout this challenging project, we collaborated closely with our DWDM technology supplier, Adtran, and the service provider, Syserso Networks. This helped us build strong relationships and enabled us to ensure smooth and rapid deployment," commented Josef Sißmeir, GM of Adva Network Security. "Our BSI-approved encryption technology offers the industry's lowest latency while maintaining high throughput, ensuring the highest reliability and security of TransnetBW's network. We're proud to have contributed significantly to this project with our ConnectGuard™ solution."